Trying to convince a client to switch from landlines to a VoIP phone system can sometimes be a challenge. And one of the most common objections is an outdated belief that landlines are more reliable than VoIP systems.
If you're speaking with a small business owner who's skeptical, you can use these points to help showcase that VoIP phone systems are reliable and a better alternative.
How to Convince Your Clients that VoIP Phone Systems are Reliable
1. Less Prone to Outages
With a traditional landline system, your communication is at the mercy of the elements, and the timelines of the phone company. Bad weather, natural disasters, power outages or even just faulty wires can bring down your client's entire phone system. When that happens, their only option is to sit and wait for the phone company to repair it.
Since phone VoIP systems aren't limited to one location, the system won't be impacted - no matter what's happening outside.
2. High Uptime
Sometimes business owners are skeptical of VoIP because it's run over the internet. This is where it's important to highlight uptime and how cloud systems work. Share with them the five nines: uptime through you is 99.999% (that is - if you're using RingOS).
You can then tell them how it works by explaining POPs. An easy script to follow for clients who aren't familiar is as follows:
Cloud phone systems are able to have such a high uptime by using a global network of servers in different locations. This means that if one or more servers go down, your phones are still functional.
This could also be an opportunity to upsell or bundle if you also offer IT services in addition to hosted PBX. Emphasize here that it's not tied to their personal internet connection but that it's run over the internet.
3. Still Useable - Even if the Internet's Down
For clients who are new to VoIP, sometimes the objection comes from a fear that losing a personal internet connection means their entire phone system is down. First, emphasize the POPs again - that their phone system isn't connected to their office's internet. Meaning that even if they are not able to access the internet, their customers still can and will be able to make calls.
Additionally, this is a great time to highlight a huge advantage of VoIP over landlines - you have options if everything goes down. Explain to your clients that if the internet or power is down at their location, they will still be able to take calls through a cell phone or by rerouting to another phone.
4. We Monitor it For You
With traditional phone systems, your clients may not even know nothing's working until they go to make a call and can't. Emphasize that with you as their provider, they have a team monitoring their uptime. If it goes down, you'll know immediately and be able to warn them.
Of course, you don't really have to do anything - if you're using RingLogix - but in the eyes of your customer, you get to be the proactive hero.
RingLogix White Label VoIP
The VoIP & UC Platform That Helps You GROW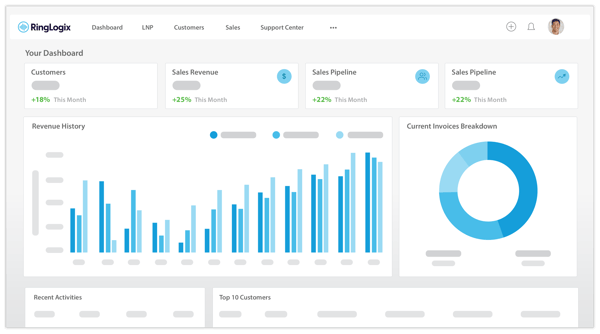 Replace swivel chair operations and managing loosely integrated systems with a single solution built from the ground up for MSPs. Offer your customers a branded and powerful cloud PBX service that's easy to setup and manage, with built-in billing and support tools that put you in control. Our system gives you all the tools your customers need:
Web meetings
Team chat
Business SMS
Web phone
Mobile app
Integrations
➤ Request A Demo Of Our White Label VoIP Platform
Don't settle for 15%-20% sales commissions. Grow your business faster with the white label platform that allows you to achieve margins up to 70% - allowing you more control of your business.
---
About us: RingLogix offers a white label VoIP platform - RingOS - that enables Partners to sell, provision, invoice, and support their own branded VoIP and UC services. We make becoming a VoIP provider easy with a managed VoIP switch, instant order activations, hassle-free number porting, multiple services, and a flexible billing system.