The Coronavirus pandemic has our whole nation turned upside down. It's interrupted our daily lives, disrupted many businesses operations and created a need for employees to work from home to ensure the continued health and safety of their colleagues, friends and families.
While working from home might be a new and foreign concept to many SMB's, the cloud based tools that they use everyday have made it infinitely easier to maintain operations and continue serving their customers with the same level of quality service, support and communication that their brick and mortar operations have strived to provide.
As resellers and service providers of VoIP and UCaaS services, one of the most critical components in enabling a successful work-from-home experience for your customers – and their customers – is to keep their phone services operating as normal. This is necessary so that they can continue receiving orders, providing supporting and demonstrating their ability to continue operating no matter what chaos is thrown their way.
Here are a few steps that you can take and share with your customers to make working from home a little easier.
1. Make Sure Their Home Network Is Ready
The quality and speed of most home internet services and networks is more than enough to support a couple VoIP calls, internet browsing, email sending and so on. Unfortunately, there is one specific setting and feature that can and will likely cause some problems.
It's the dreaded SIP ALG - which you can
read about in detail here
. Luckily, RingLogix offers a simple to use SIP ALG test that immediately tells you if this feature is active or not. To check just
download and run this file
. Green means your clear and Red means a SIP ALG is active and will need to be disabled. For a list of routers known to have a SIP ALG enabled by default and instructions on how to disable it
look here
.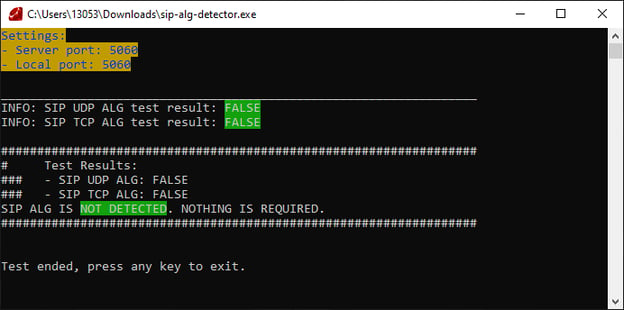 Now, while SIP ALGs will likely cause the bulk of problems, other factors like double NAT and the lack of Quality of Service (QoS) settings will cause some issues too.
To check for double NAT just make sure the customer has a public IP on the WAN side of their router. This is particularly important if the customer has a router connected to a modem that is also acting as a router. If they are using the modem itself as a router then you can likely avoid this.
Last is QoS, or better said the lack of it. Yes, it's true that VoIP calls use an insignificant amount of bandwidth especially when compared to other services like video streaming. We're talking about 40-100K per call, it's almost nothing. The problem is when your kids and relatives all start binge watching Netflix and playing online games. Those services will hog the bandwidth and make your VoIP calls sound choppy and broken. See here for a guide on
how to setup QoS on Linksys routers
.

2. Get Them Ready To Go Remote with Mobile Device Options
While its technically easy and possible to grab your VoIP desk phone and take it home, there are other factors that will complicate that process. As an example, many SMBs have started to use POE injectors and don't have power supplies for those devices, meaning they can't power them up at home unless they have a POE injector at home – which most don't. Plus, with the increased need for network security and network segmentation many of these VoIP devices may have VLAN settings that won't work at the employee's house. That means you need to reconfigure devices at a time where resources might be slim.
Instead, consider using remote friendly VoIP devices like mobile apps, web phones, and softphones.
The RingLogix
SNAPmobile app for Android and iOS
allows Users to make and receive calls with the same level of functionality found in most desktop devices. To download the app ask your users to search for "SNAPmobile" in the relevant app store. Here are instructions for logging in and using the
Android
and
iPhone
versions.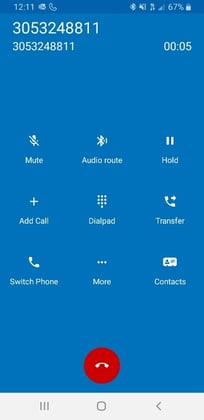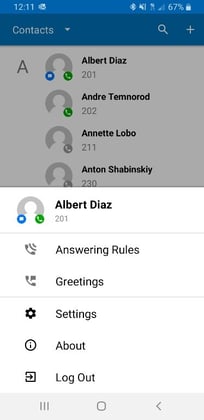 In addition, RingLogix makes available a browser based WebRTC phone that does not require any downloads or configurations. All your Users need to do is log into the customer portal and click the "Web Phone" link at the top of the page. Just make sure the User has a quality headset ready and plugged in before they open the web phone.

When launching the web phone for the first time a quick tutorial will show them around. They can then choose to use it in compact or full desktop mode by maximizing the window.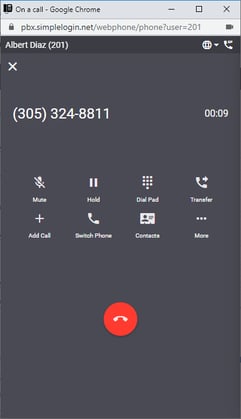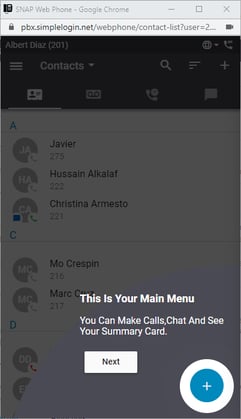 Please note…
If you are using the mobile app or web phone for the first time you should see a notice asking if you would like to start receiving inbound calls on that device. Make sure to click Yes. This will add your mobile device to your answering rules so that it receives calls made to your extension. However, if you have used it in the past and clicked no you will need to add your mobile device to your
answering rules
manually. The simplest option is to click "Ring all user's phones". Further, if that User is part of a queue this new device must be
added to the queue
or it will not receive calls from that queue.

3. Use Find Me/Follow Me and Remote Destinations
If using a desktop or mobile device isn't a viable option, then the next best solution is to just use their cellular or land line.
Find me / follow me settings in the Users
answering rules
will give them all sorts of options as to how and when a call should be forwarded to their external line.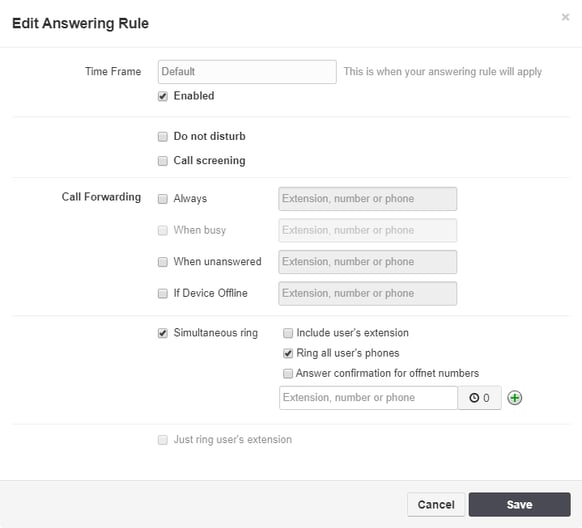 In addition, you can also add cellular or land lines as remote destinations in sales and support queues. Doing so is simple and only requires typing in the cellular or land line number in the agent field when
adding agents to a queue
. The system will recognize that its an external destination and treat it accordingly.

4. Apply Needed e911 Changes and Inform Users of How e911 Works
Once you've helped your customers start working from home its important that they understand the limitations of e911 and make any changes needed. The RingLogix VoIP Reseller Platform has a lot of flexibility when it comes to
e911 management
. Each phone number used as a caller ID can have its own e911 address registration. However, with most customers only using a "main" number – and normally operating form a single location - this may create a short term problem. If each User has a dedicated DID then ensure it has an active e911 registration and that its assigned as their 911 specific caller ID. If you anticipate any issues or delays in making the necessary changes then its important that you notify those affected users and ensure they have other means of dialing 911.
5. Using Reports to Make Sure It's Business As Usual
Keeping eye on call activity and comparing it to the past is a great way to confirm if your phone operations are looking normal. In addition to standard call history reports, customers can schedule exports to be delivered to their email. Further, enabling the Call Center Supervisor privilege to certain administrators will activate a suite of advanced reporting tools any small business can benefit from. You can look at our KB articles to review some of the
call center features
and the new
call monitoring wallboard
available to you and your customers.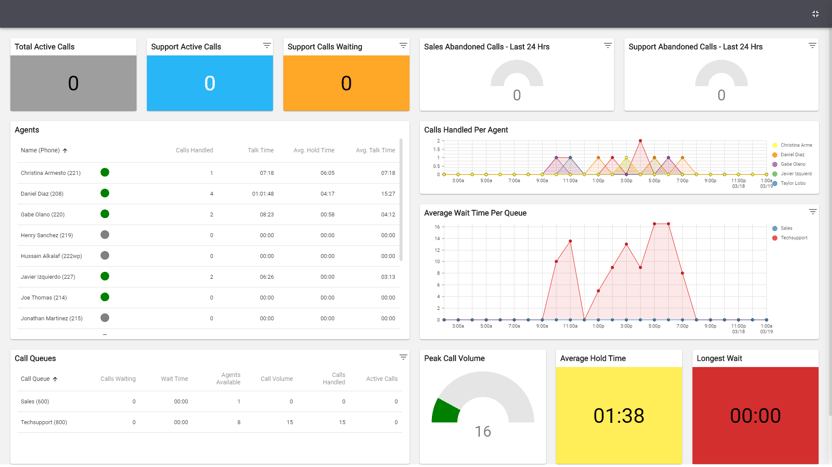 If you're not a current customer, but have questions or want to be better prepared for when your customers reach out on how to prepare for remote operations, please schedule a demo or fill out the form below. We're happy to help in anyway we can.
Talk To A Specialist
If you'd like to learn more how to enable your customers work remotely, and the benefits of Unified Communications, download our latest whitepaper.