Workplace flexibility is not new, but the COVID-19 pandemic threw remote working into the front pages.
While there are countless studies on the effectiveness and challenges of remote working from the logistic and employee perspectives, there are far fewer articles written from a remote management point of view.
Now that many of your customers are enforcing a work-from-home policy for all employees, how can their managers be just as effective from home as they are in office?
And most notably, now that customer service is more important than ever, how can their managers keep customer service at the forefront?
Successful Remote Management With Call Center Reporting
Teleworkers can often feel isolated from managerial support. As a remote manager, regular check-ins, such as quick morning conference calls, give employees a chance to voice their concerns and needs. Regular check-ins also give opportunities for managers to offer the support and socialization that are now missing from the workplace.

Taking care of employee needs is not the only thing managers need to do, though. Keeping apprised of day-to-day operations is a top priority to make sure customers are taken care of. Using several different tools, such as call recording and reporting, managers can effectively keep tabs on operations.
While call recording is one way to control quality and provide training, call reporting is an excellent tool to monitor performance and efficiency within any organization. This type of reporting is often referred to as a call center dashboard or wallboard but, wallboards are not just for call centers. These dashboards are highly beneficial for every business, especially when managing work from home employees.
➤ Related Content: Capturing The Mobile Workforce With Unified Communications
How to Use Call Center Wallboards
Wallboards (or dashboards) are intuitive, real-time, visual reporting tools that allow managers to track important KPIs and monitor agent performance. Utilizing wallboards ensures real-time monitoring to spot trends, correct issues, and boost productivity levels. While these have traditionally been used by call centers, your newly remote customers should be implementing wallboards and other call center tools for effective remote management.
As their Service Provider, now is a great time to consider converting some of your basic customers to hosted call center seats so that they can benefit from these powerful tools.
Since everyone is remotely working, coworkers and managers can no longer look over the bullpen, or peak into offices to check availability and productivity. With call center wallboards, your customer management can monitor queue activity, call flows, abandonment rates, agent availability, and much more! Users can also keep their status and presence updated so that managers and coworkers know whether they are available or not.
This insight gives managers the information they need at a glance without having to disrupt their employees or agents. Further allowing them to keep an eye on operations, while maintaining trust with their employees.
The RingLogix Wallboard displays all of your data in real-time in an easy-to-digest layout – keeping you informed of your teams' performance.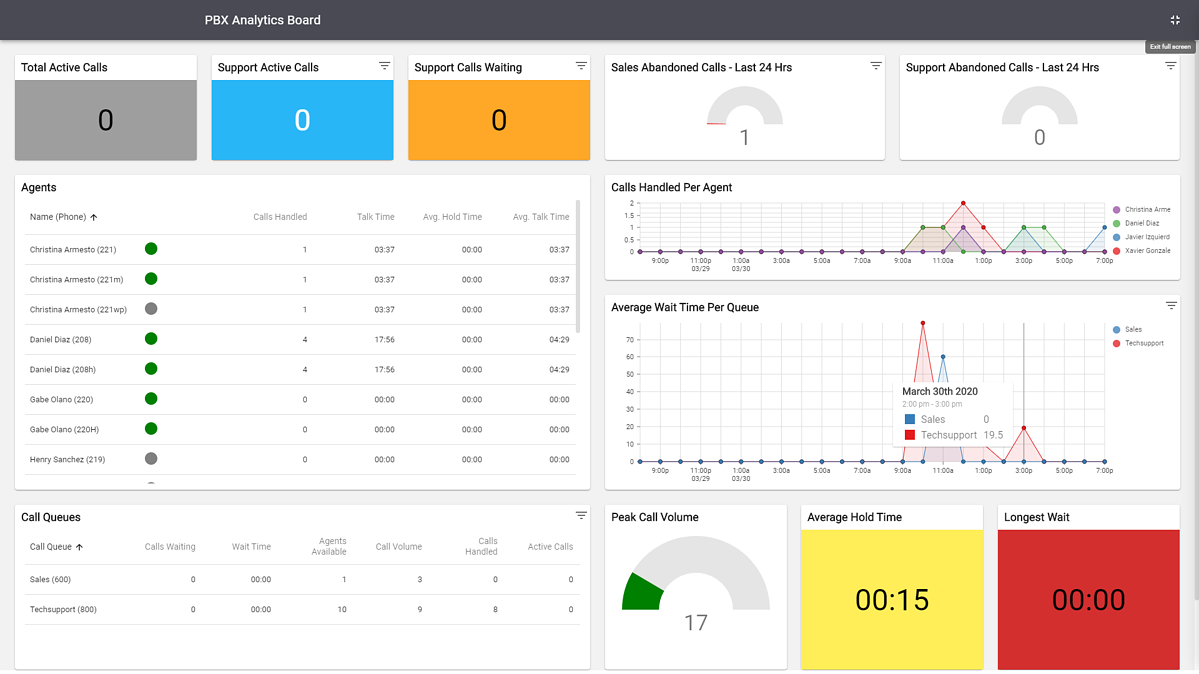 How to Generate Call Center Reports
If wallboards are not your customers' speed, call reports are a highly valuable tool to maintain regular visibility into their business. Consider showing your customers how to schedule reports that can be emailed to them every day, giving them a snapshot of daily operations.
To set up reports within your RingLogix portal, head to the Call Center tab and click on the drop-down next to Reports. Click on Email Reports and select the report types and frequency, then press save.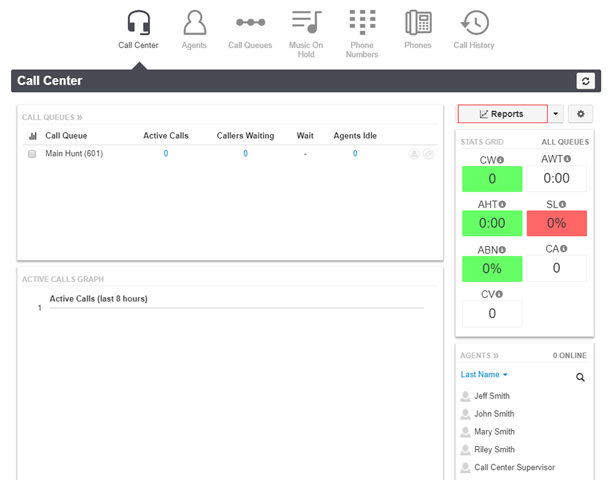 How to Analyze the Data
Your customers may ask you which metrics they should be paying attention to, especially if call center tools are new to them. Helping your customers choose which KPIs they track is an important part of analyzing their call center data and helps them set realistic goals.
A few KPIs that your customers should be tracking are:
Time to answer
Abandon rate
Call volume
Time to answer and abandoned rates are both directly tied to customer experience. In a time where a lot of people are under stress and uncertainty, trying to contact customer service should be effortless. Tracking call volumes helps your customers see when their staff may need extra support due to high call volumes.
These features are readily available with call center seats and is an easy upgrade for remote managers looking to effectively manage remote employees. With RingLogix's White Label Hosted Call Center solution, your customers can work from anywhere and retain visibility into their daily operations. No need for them to shut down the next time a global crisis hits. Be there for your customers when they need it most, with RingLogix.
Hosted Call Center and Reporting with RingLogix
➤ Request A Demo Of Our White Label VoIP Platform
Don't settle for 15%-20% sales commissions. Grow your business faster with the white label platform that allows you to achieve margins up to 70% - allowing you more control of your business.
---
About us: RingLogix offers a white label VoIP platform - RingOS - that enables Partners to sell, provision, invoice, and support their own branded VoIP and UC services. We make becoming a VoIP provider easy with a managed VoIP switch, instant order activations, hassle-free number porting, multiple services, and a flexible billing system.