You don't have to be a salesperson to sell yourself as a VoIP reseller - but it does pay to know some sales tricks.
The biggest? You can't approach your customers in a one-size-fits-all manner. Your customer varies by size, revenue, abilities, etc., and lumping them all together shows them you do not really understand their business and what they are trying to accomplish. That approach is what all the big brands do - and what you're trying to separate yourself from to make that sale.
You're also going to find yourself running into a wall when you try to upsell services to existing customers. So how do you logically approach understanding and engaging your customers? It's easy - if you follow these tips.
Strategies for VoIP Resellers to Improve Customer Engagement
Listen To Understand, Not Just to Respond
Listening may be a passive process, but it also can lead to active improvements for your customers and your business.
Listening to customers may be a great way for you to gather project and business-focused information. Informed decisions are based on real data, not guesses and assumptions. Furthermore, listening and understanding customer needs and feedback is one of the best ways to gather business-specific data that provides an understanding of your customers' feelings about the products and services you offer and deliver.
By surveying and measuring customer satisfaction, you can determine shortcomings and positive experiences. Then develop course corrections that address them or promote those experiences.
When you use this feedback to guide your sales, marketing, and operational decisions, your efforts are already set up for success. Remember, it's your customers, as your best critics, that decide whether what you provide is up to snuff.
Additionally, customers appreciate seeing their voice heard and that you are receptive to feedback. This in turn creates a more positive bond, which makes your customers all the more likely to recommend your services to their colleagues.
➤ Related Content: How MSPs Can Differentiate Themselves from Big Brands
Segment Your Customers and Engage Appropriately
Once you've tapped into the power of listening to your customers and using that data, you'll also want to effectively engage with them through segmentation based on the right engagement model. An engagement model refers to the process of managing your customer post-sales.
First, you have to identify if your customer is high needs or low needs. You likely already know this already, even if you don't have it documented for each customer. High needs customers are the ones that require more assistance - whether it be because their needs are complex or because they need more training or a combination of both. Low needs customers are the ones who only call you if something goes wrong.
Depending on your business strategy, customers will then fit into one of these four engagement models: High Touch Onboarding, Low Touch Onboarding, High Touch Ongoing, or Low Touch Ongoing. The different types are created by segmenting your customers into two touch categories: high touch and low touch. These correspond with high needs and low needs (high needs = high touch, low needs = low touch).
By segmenting your customers into these two different categories, you will better understand the type of engagement model they fit into best.
For example, a high needs customer typically belongs in a high touch engagement model. While a low needs customer sits comfortably in a low touch engagement model - more on that below.
But don't confuse high value for high needs. Segmenting your customers by value does not portray a very customer-conscious business culture. Although your high-value customers may make up more than 50% of your annual recurring revenue, In most cases, they will only make up around 10-20% of your overall install base.
➤ Related Content: Related Content: Selling UCaaS: Marketing Best Practices For Resellers
Choose the Right Engagement Model
Once you have your customers segmented into high touch and low touch, you need to decide on an engagement model. The engagement model you choose defines how often and how many touch points you have with your customer. And based on your business strategy, these touch points may be more prevalent in the onboarding or in the post-onboarding stages.
➤ Related Content: Remote Selling Tips for VoIP Resellers
High Touch Onboarding

Almost every business has an onboarding process to bring new customers up to speed. A more hands-on onboarding process with many different persons involved obviously requires a high amount of touchpoints. However, a high-touch onboarding model needs to produce enough revenue to cover the number of resources that the onboarding process requires.
Low Touch Onboarding

This type of engagement model requires a less hands-on type of resource, think training videos and plug-and-play equipment. If you choose a low touch onboarding model, then you need to have already available resources in place to successfully onboard your customer.
High Touch Ongoing

With this type of engagement model, your customer may have been onboarded with either a high touch or low touch onboarding process but requires a high touch ongoing management approach. To properly use a high touch ongoing engagement model, you need a customer success manager (CSM). And the revenue generated from the customer needs to be high enough to cover the cost of the CSM.
Examples of High Touch Ongoing engagement:
On-site visits

Quarterly business reviews

Best practices meetings
Low Touch Ongoing

As with the high touch ongoing model, the low touch ongoing engagement model may have already been onboarded with either of the onboarding engagement models. The difference here is that the engagement with your customer is almost exclusively done digitally, think email-only. To successfully use this type of engagement model, you will need a heavy amount of automation, like auto-responder emails and account alerts. Typically, this engagement model is for low needs customers or products.
Examples of Low Touch Ongoing engagement:
Triggered emails

Reactive engagement
Put that all together and you have a winning strategy for understanding and engaging with your prospects and customers. You can adapt these steps or use a combination of engagement models to fit your business model and company culture. The most important aspect is to make sure your engagement model costs are covered by the revenue that the customer brings in. And above all, listening should be your highest priority for understanding your customers.
As your customer's trusted partner, you want to control and deliver positive VoIP service experiences. If you're tired of your current limitations, slow response times, and low commissions from your current reseller program, contact us today and let's see how we can help you achieve your business goals.
RingLogix White Label VoIP
The VoIP & UC Platform That Helps You GROW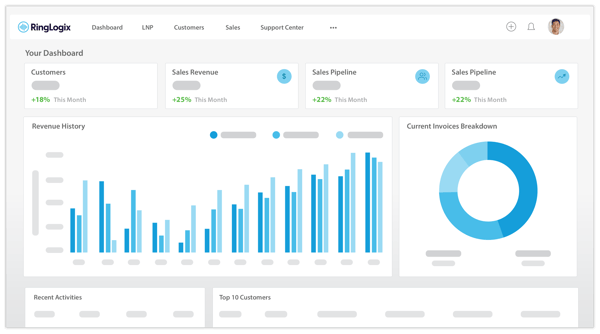 Replace swivel chair operations and managing loosely integrated systems with a single solution built from the ground up for MSPs. Offer your customers a branded and powerful cloud PBX service that's easy to setup and manage, with built-in billing and support tools that put you in control. Our system gives you all the tools your customers need:
Web meetings
Team chat
Business SMS
Web phone
Mobile app
Integrations
➤ Request A Demo Of Our White Label VoIP Platform
Don't settle for 15%-20% sales commissions. Grow your business faster with the white label platform that allows you to achieve margins up to 70% - allowing you more control of your business.
---
About us: RingLogix offers a white label VoIP platform - RingOS - that enables Partners to sell, provision, invoice, and support their own branded VoIP and UC services. We make becoming a VoIP provider easy with a managed VoIP switch, instant order activations, hassle-free number porting, multiple services, and a flexible billing system.