If you have a successful, thriving technology service business, you may be looking for exciting new ways to grow your organization.
One excellent option that may offer just what you need is white label VoIP services.
What is White Label VoIP?
The term "white label" literally comes from the idea that anyone can put their brand on the product in question. White label VoIP platforms are fully developed platforms that you can re-brand and resell to your customers as your own.
White label platforms enable you to easily become a VoIP provider – without the time or expense of developing your own platform from scratch.
While there are many benefits in opting for a white label platform, here are the three main features that distinguish white label VoIP platforms:
Full Customization to your brand
Integrated billing
Operational autonomy
1. Full Customization to Your Brand
When you choose a white label platform, you will fully re-brand the service under your own name and label. This means you can sell and provide VoIP services to your growing customer base under your own unique name.
White label services are ready to go and designed to be easily integrated into your business. All communications, from invoices to emails, are branded and delivered from your company to consistently maintain the same look and feel as your website and marketing. All communications will use your logo, your address, and the fonts and colors of your choice. There is nothing at all to indicate that the platform is anything other than your own service. Best of all - it all happens automatically. Just set your logo, colors, and branding in the OS and boom - you're ready to go.
➤ Related Content: How You Can Become A VoIP Reseller In A Few Easy Steps
2. Integrated Billing
One of the hallmarks of a white label platform is integrated billing. This means that the system manages invoice delivery, billing notifications, and credit card processing for your VoIP services – all in one place.
There is no need to enter your customer data into multiple systems or worry about securing customer data in multiple locations. This makes it very easy to set up, maintain, and invoice customers. The process is simple, secure, and functionally complete.
➤ Related Content: VoIP Resellers: Stop Making These Critical Pricing Mistakes
3. Operational Autonomy
As a VoIP reseller, whether you are a managed service provider or a PBX installer, you will retain autonomy over your VoIP business activity at all times. You are not handing over customer data to another provider – you are delivering and managing this service as your own. This means that only you will determine your price points, collect payments, bill customers, and provide support.
Customers will communicate and interact with you, not with some unknown third party. Invoices will be designed, created and sent directly from you. Nobody else will have access to your customer records or data, and your customers will continue to value and respect you for the service that you provide to them.
➤ Related Content: How MSPs Can Differentiate Themselves from Big Brands
RingLogix White Label VoIP
The VoIP & UC Platform That Helps You GROW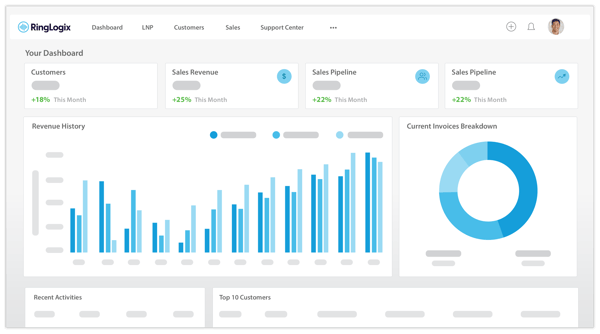 Replace swivel chair operations and managing loosely integrated systems with a single solution built from the ground up for MSPs. Offer your customers a branded and powerful cloud PBX service that's easy to setup and manage, with built-in billing and support tools that put you in control. Our system gives you all the tools your customers need:
Web meetings
Team chat
Business SMS
Web phone
Mobile app
Integrations
➤ Request A Demo Of Our White Label VoIP Platform
Don't settle for 15%-20% sales commissions. Grow your business faster with the white label platform that allows you to achieve margins up to 70% - allowing you more control of your business.
---
About us: RingLogix offers a white label VoIP platform - RingOS - that enables Partners to sell, provision, invoice, and support their own branded VoIP and UC services. We make becoming a VoIP provider easy with a managed VoIP switch, instant order activations, hassle-free number porting, multiple services, and a flexible billing system.