If you're looking for a good side hustle, to strike out on your own as a business owner, or to expand your current offerings: becoming a VoIP reseller is a lucrative option.
A VoIP reseller partners with a service provider to sell VoIP services to their customers. As a reseller, you are able to use the commercially-supported backend of your service provider, while owning the customer-facing aspects of your business.
Furthermore, if you use a white label VoIP provider, you can deliver everything under your brand - and control the pricing.
At this point you might be saying, "this all sounds great!" Here's what you need to know about getting started as a VoIP reseller.
How You Can Become a VoIP Reseller
Let's take a look at some general steps to running your own VoIP business.
Step 1: Understand What a VoIP Reseller Business Should Look Like
It is important that you or your team have a basic understanding of or prior experience with VoIP. You or your team should also understand basic networking and how gateways work with voice switches. As a VoIP reseller, you will need to know or have an idea of how you want to package and sell the services you offer. If you're completely new to VoIP, there are a number of online training courses available - Teracom and The SIP School are good places to start.
If you have a technical background, picking up the ins and outs of VoIP is relatively easy. From there, you just need to define your service offerings. At a minimum, you'll want to offer hosted PBX and SIP trunking to your clients, but you may also want to expand into other avenues like mobile apps or fax options.
➤ Related Content: 5 VoIP Solutions Every MSP Should Offer
Step 2: Identify Your Market
Businesses across the globe are converting their communications to the cloud. As a reseller, you need to narrow your core demographic. Instead of selling your services nationally, you might want to go local or regional and grow a core group of clients before expansion.
Additionally, knowing what your competition offers and what they charge helps you develop a business that will stand out. Selling VoIP services is like selling something everyone wants and most everyone needs. That means your customers could look very different from each other. They could be small businesses, non-profits, mid-sized, and even enterprises. They could be schools, doctors' offices, car dealerships, or lawyers. Even so, the best VoIP resellers will focus on specific verticals or niches and become experts in that area. Don't make the mistake of trying to be everything for everyone.
➤ Related Content: Strategies for VoIP Resellers To Improve Customer Engagement
Step 3: Choose a Service Provider
While there are many different service providers to pick from, you should pick one that has all that you want to offer. Consider what service offerings you want to give your clients - like call center features - as well as tools you'll need as well - like an integrated billing solution. More importantly, make sure that their service is reliable, that they let you handle the customer service, and that they are able to train you on all their services and features.
Moreover, be careful not to choose a provider's platform that has you jumping through hoops to make a sale. If you don't control your pricing and packaging, then you're just like every other VoIP reseller and big brand. Additionally, if you have to go through a bunch of different portals and platforms to quote prospects and turn up new customers, you're risking possible data integrity issues and increased human errors. Not to mention, running a severely inefficient process that takes much longer than it should.
Rather than no control and endless hoops, choose a service provider that gives you everything you need to successfully sell VoIP in a one-stop-shop platform. If you choose RingLogix as your service provider, the process is easy, economical, and efficient.
➤ Related Content: White Label vs. Traditional VoIP Reseller Services
Step 4: Keep Control of Your Business, While Increasing Your Margins
Don't settle for low margins and no control over your customer's experience. After all, the point of becoming a VoIP reseller is to help your business grow and improve your revenue. If you choose a service provider that offers you low margins, how can your business and revenue grow? If your service provider is the one owning the customer experience, how will your business improve customer loyalty?
With RingLogix, you get a better user experience for you and your customers. Forget about low margins! Your money is almost quadrupled, because RingLogix gives you a platform where you can quote on demand, whenever you want, at any price you want. More importantly, you're representing your own brand, your own company - not someone else's company. With RingLogix, you control your guidelines and you dictate your future.
➤ Related Content: VoIP Resellers: Stop Making These Critical Pricing Mistakes
The VoIP & UC Platform That Helps You GROW
RingLogix White Label VoIP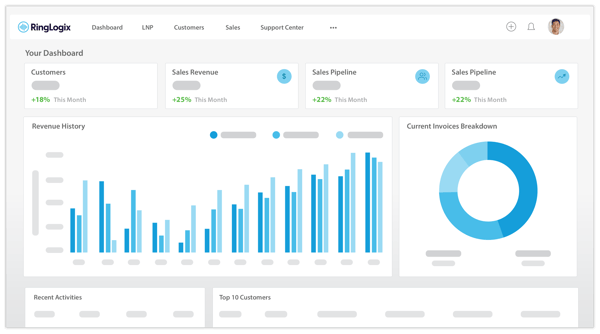 Replace swivel chair operations and managing loosely integrated systems with a single solution built from the ground up for MSPs. Offer your customers a branded and powerful cloud PBX service that's easy to setup and manage, with built-in billing and support tools that put you in control. Our system gives you all the tools your customers need:
Web meetings
Team chat
Business SMS
Web phone
Mobile app
Integrations
➤ Request A Demo Of Our White Label VoIP Platform
Don't settle for 15%-20% sales commissions. Grow your business faster with the white label platform that allows you to achieve margins up to 70% - allowing you more control of your business.
---
About us: RingLogix offers a white label VoIP platform - RingOS - that enables Partners to sell, provision, invoice, and support their own branded VoIP and UC services. We make becoming a VoIP provider easy with a managed VoIP switch, instant order activations, hassle-free number porting, multiple services, and a flexible billing system.