Unified communications adoption is skyrocketing and it will only continue to grow. Modern businesses have so many different communication channels, it's easy to sell them on one easy-to-use platform that will consolidate everything in one place.
However, this increased adoption also leads to increased competition. Set your MSP services apart by including these five in-demand UCaaS offerings.
5 Services to Include in Your UCaaS Offerings
1. Web Meetings
Web meetings are essential for remote, hybrid and even in-person offices. Whether your clients are using Zoom, Microsoft Teams or another tool - your UCaaS offerings need to include a web meeting platform to meet their business needs.
2. Team Chat
Instant messaging is another tool that most of your clients will expect to have access to. If you partner with the right white label VoIP provider, you can integrate tools like Slack and Microsoft Teams seamlessly into your hosted PBX and billing.
3. Web Phone
A VoIP offering should be an obvious part of your UCaaS toolkit, but it's worth calling out. Look for VoIP services that will integrate with existing phone systems easily, offer skill-based call routing and call quality monitoring. It's not enough to just offer white label VoIP - it should be a robust, modern phone solution that works alongside your other offerings seamlessly.
➤ Related Content: 3 Ways MSPs Can Differentiate to Grow in a Saturated Market
4. Business SMS
Many of your clients use SMS to communicate personally and professionally. Stand out from your competition by offering an integrated business SMS solution alongside your other communication offerings.
5. Mobile App
Make it as easy as possible for your clients to communicate with you and pay their bill. A mobile app for your services makes it simple for both you and them to conduct business. It also makes it easier to funnel and handle support requests from your clients. With RingLogix, you'll get a white label app you can use to connect with your customers.
RingLogix:
The VoIP & UC Platform That Helps You GROW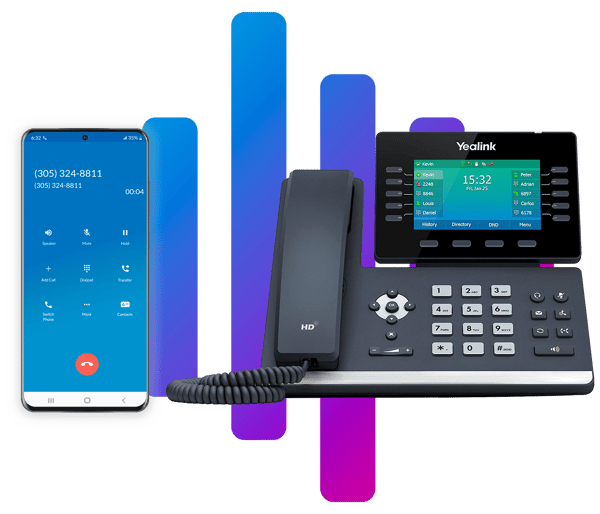 With white label United Communications as a Service (UCaaS) from RingLogix, you get a hosted solution that includes voice, video, chat, presence, web apps, mobile apps, call control, webRTC, and more.
With White Label UCaaS from RingLogix, you get:
One singular system for voice, video, email, fax, or instant message communications
Real-time, peer-to-peer communications
Mobile phone apps
Web-based operator consoles
Support for all popular devices, including Cisco, Polycom, and Yealink
Ability to collect and manage user availability and communication preferences
➤ Request A Demo Of Our White Label Platform
Don't settle for 15%-20% sales commissions. Grow your business faster with the white label platform that allows you to achieve margins up to 70% - allowing you more control of your business.
---
About us: RingLogix offers a white label VoIP platform - RingOS - that enables Partners to sell, provision, invoice, and support their own branded VoIP and UC services. We make becoming a VoIP provider easy with a managed VoIP switch, instant order activations, hassle-free number porting, multiple services, and a flexible billing system.