If your MSP business model isn't anchored on a unique solution for your clients, you might as well close shop. The most successful MSPs have transitioned from a break-fix model, and are now able to predict customer needs before customers have a chance to raise their collective blood pressure.
This not only creates a positive reputation for your brand - it also makes you stand out in a saturated market, and poises you for expansive future growth.
Learn the most important ways successful MSPs differentiate and innovate to become a strategic long-term teammate instead of a break-fix solution.

1. Focus on a Niche
One of the most critical components of MSP management is finding a niche. Building your area of specialization as a MSP can be accomplished in a few ways.
First up, you need to do the groundwork to figure out what kind of niche specialization best fits your IT solution organization. Market analysis will tell you who needs your services and is actively searching for you. More importantly, it will also shed light on what services the other MSPs aren't offering — so that you can.
Determining your team capacity and projecting growth will help you assess whether you should focus on smaller clients or if you're ready to tackle major industries.
From this data, you can then get specific about how you will differentiate from every other MSP out there. Strategic areas where MSPs can employ hyper-specialization include:
Focusing on one industry (ex. healthcare, banking, retail): Becoming an expert in a specific industry attracts more businesses looking for a knowledgeable partner, and lets you anticipate emerging market needs for better selling.
Targeting one size of business: Are you servicing a few large enterprise-level clients, or do you catch more small fish working with the SMB crowd and leverage numbers that way?
Pinpointing your local market: Understanding the MSP client needs and trends within a geographical area sets you apart from big brands that apply the same strategy to multiple markets.
To be effective and efficient in your MSP lead generation efforts, don't focus on casting a wide net and capturing a large number of leads you won't convert. Instead, focus on your niche market where your offering and expertise will virtually close the sale for you.
If your MSP business plan already focuses on a niche area, make sure your product offering is customized for your niche and your marketing is targeted to its members.
2. Be a One-Stop-Shop
Focusing on a niche industry or a specific business size doesn't mean you can't still provide all of your MSP clients' needs. In fact, being a specialized MSP with a comprehensive service offering leads to client stickiness and contributes to top-line growth.
Many MSPs veer away from becoming a one-stop shop and opt to help their clients by recommending third-party vendors. However, the time to implement, deploy, and perfect an in-house solution is costly with a low ROI, so it's simply not worth their time.
Instead, boost top-line growth by offering white label services. By providing an in-house solution under your brand, you increase client value and loyalty without adding effort and cost for your team.
➤ Related Content: White Label vs. Traditional VoIP Reseller Services
Many MSPs find it lucrative to invest in white label solutions for:
Internet service providers
Data backup solutions
IT Help Desk management
Offering white label services through the best MSP software platforms gives you control and insight into the services your clients receive. For instance, providing white label VoIP services through a platform built for re-sellers eliminates the stress and cost of building and maintaining your own VoIP solution from the ground up.
When you partner with a trusted platform that increases your service offerings, it's a win for clients and a boon for sales growth.
3. Market Your Unique Benefits
Getting ahead of your competition is easier if clients are familiar with your MSP business, and what makes you uniquely suited to serve their needs. IT-illiterate –– or at least IT-averse –– business leaders choose MSPs that understand their industry, fulfill a unique service need, and generally fit their business culture.
Once you've narrowed your niche and bolstered your tech stack with a platform that makes all-in-one service delivery simple, you need to differentiate from other MSPs by intentionally getting in front of your target market.
Consider these tactics in your MSP marketing:
Focus on specific client pain points that your MSP is uniquely suited to solve.
Stay in front of your leads outside of business hours by investing in local advertising or attending business networking events.
Show your subject matter expertise to leads when they are feeling relaxed, not pressured with an urgent fix. For example, seek opportunities as a speaker or panel member for a business conference focused on digital transformation.
Leverage digital marketing to build top-line growth with data-driven marketing tactics like pay-per-click (PPC) ad campaigns, email marketing, and social media marketing.
MSPs can get caught in an under-bidding war with other MSPs in order to stand out to clients with their price point. The market is big enough that you don't need to undersell your services.
Remaining top of mind for potential clients is key for MSPs. Some MSPs used to follow the break-fix model, waiting for clients to come to them. The market has changed and MSP marketing is no longer optional. MSPs who rely on their IT solutions alone without marketing will be lost in a sea of managed service providers.
Stand Out From Other MSPs with RingLogix
Deliver more value and leverage the platforms that enable you to provide excellent levels of service consistently with the right platform - RingLogix.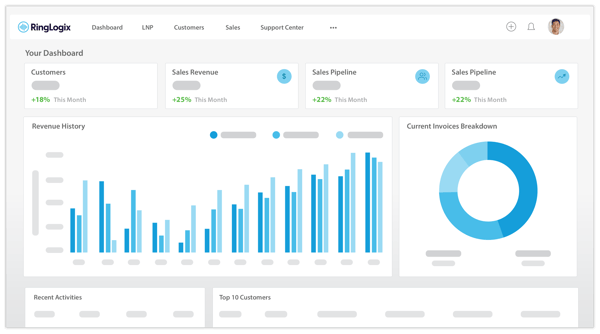 Replace swivel chair operations and managing loosely integrated systems with a single solution built from the ground up for MSPs. Offer your customers a branded and powerful cloud PBX service that's easy to setup and manage, with built-in billing and support tools that put you in control. Our system gives you all the tools your customers need:
Web meetings
Team chat
Business SMS
Web phone
Mobile app
Integrations
➤ Request A Demo Of Our White Label VoIP Platform
Don't settle for 15%-20% sales commissions. Grow your business faster with the white label platform that allows you to achieve margins up to 70% - allowing you more control of your business.
---
About us: RingLogix offers a white label VoIP platform - RingOS - that enables Partners to sell, provision, invoice, and support their own branded VoIP and UC services. We make becoming a VoIP provider easy with a managed VoIP switch, instant order activations, hassle-free number porting, multiple services, and a flexible billing system.