Many white label VoIP providers claim to give you control over your business. However, as soon as you sign up, you start to notice that you must adhere to their pricing, their support methods, or even their product sets. That can be frustrating for service providers looking to differentiate their services and reach larger opportunities.
In this article, we are going to unpack the different ways MSPs and VoIP resellers might be losing control to their platform provider. Then we will show you how RingLogix gives you the freedom and control you crave!
Do you control your margins?
Many VoIP reseller programs cap your commissions at or below the 20% mark. How can you expect to grow with low margins? To add insult to injury, many white label providers slow down your ability to quote and sign up new customers with a rigid process often involving the need to obtain an account manager's approval. In some cases, it could take weeks before a customer is up and running.
RingLogix provides you with a fully-integrated and powerful white label quoting tool where you are in total control of your margins and the approval process is owned entirely by your business. Our online quoting tool is designed specifically for communications solutions. This means you spend less time and effort creating and sending quotes, and more time focusing on your customer's needs.
➤ Related Content: VoIP Resellers: Stop Making These Critical Pricing Mistakes
Do you control your reliability?
Reliability is directly attached to your reputation. That is why it is vital to maintain control over the reliability of your service. When you give up this control, you are at risk for security issues, lack of redundancy and zero fail-over planning.
At RingLogix, we know how important your reputation is. That's why we give you total control over your service experience. Unlike other white label VoIP providers, RingLogix is a commercially supported back-end solution. You never have to worry about downtime and outages with a fully active/active Geo-redundant platform. Plus, with our 24-hour packet capture and QoS analytics, you can easily find quality issues for quick correction.
➤ Related Content: White Label vs. Traditional VoIP Reseller Services
Do you control your support?
Many vendors only offer one or two components that service providers need to run their business effectively. This causes providers to source their needs from a variety of vendors. While this may work at first, long-term customer support can become a hassle when you are juggling a handful of platforms. When you can't troubleshoot a customer's issue quickly, your reputation and relationship with that customer can be permanently damaged.
By contrast, the RingLogix white solution offers a single pane of glass view so that you can monitor all your business systems from one portal. Forget about the hassle of dealing with multiple vendors and take total control of your support. As mentioned above, RingLogix gives you total control over your customer's experience. With our 24-hour packet capture and QoS analytics allow you to proactively spot issues and fix service-impacting problems on your own, without needing to get a third party involved.
➤ Related Content: 5 VoIP Solutions Every MSP Should Offer
RingLogix gives you complete control over the customer relationship - from quoting to activation to support - thereby giving you total control of your business!
The VoIP & UC Platform That Helps You GROW
RingLogix White Label VoIP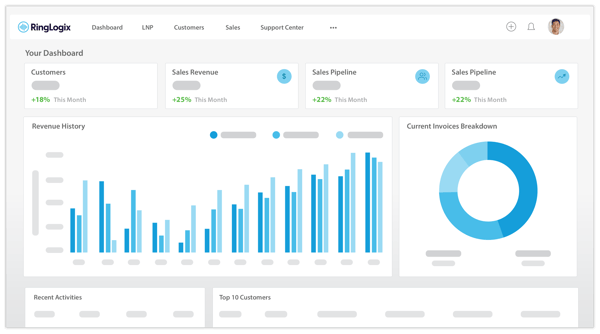 Replace swivel chair operations and managing loosely integrated systems with a single solution built from the ground up for MSPs. Offer your customers a branded and powerful cloud PBX service that's easy to setup and manage, with built-in billing and support tools that put you in control. Our system gives you all the tools your customers need:
Web meetings
Team chat
Business SMS
Web phone
Mobile app
Integrations
➤ Request A Demo Of Our White Label VoIP Platform
Don't settle for 15%-20% sales commissions. Grow your business faster with the white label platform that allows you to achieve margins up to 70% - allowing you more control of your business.
---
About us: RingLogix offers a white label VoIP platform - RingOS - that enables Partners to sell, provision, invoice, and support their own branded VoIP and UC services. We make becoming a VoIP provider easy with a managed VoIP switch, instant order activations, hassle-free number porting, multiple services, and a flexible billing system.