Selling white label telecommunications is a popular way to grow your business and improve your income stream. There are more companies that are looking to offer customers a "real phone number" without the high cost of a full telecom system, or even a physical office. But how do you make money as a telecom reseller?
Operating a successful white labeling business can be complex, especially if you're moving into a market that already has established competition.
With VoIP, however, you often have the chance to be the first in a particular market. Here's how.
Avoid High Capital Expenses With Rebranding
It takes a fair amount of capital to invest in the necessary telecom technology and begin offering VoIP products. The benefit of a white label product is you can brand it as your own and avoid high capital expenditures. You enjoy all the benefits of a quality product without high up-front costs.
With white label VoIP solutions from RingLogix, you can sell your own branded VoIP services like Hosted PBX and SIP Trunking. Everything from service creation, feature management, and service support is in your control. On your customers' side, all they see is your brand. But behind the scenes, you have a powerful, pre-built platform to handle everything in one place.
➤ Related Content: White Label vs. Traditional VoIP Reseller Services
Look For a Product With High Profit Margins
White labeling VoIP is similar to other products; you need to ensure that you're choosing a product that is high quality, while also ensuring that you can purchase it at a price that will allow you to make a profit. With VoIP, making sure that you will be able to continue to offer the service at a profitable price is crucial.
An all-in-one platform like RingLogix saves you money by consolidating all the software you need into one place. Our users on average see 70% margins or higher.
Once you have the right tool in your box, you can maximize your profits by setting smart pricing structures. When you don't have high operating costs, then you can offer your clients a price that's still competitive, but also has high margins for you.
➤ Related Content: VoIP Resellers: Stop Making These Critical Pricing Mistakes
Differentiate Yourself From The Competition
This is true in every industry, but one key detail with reselling VoIP is to make sure that your company offers something unique. Look for a feature-rich platform so you can offer your customers exactly what they want. In addition to services like hosted PBX or SIP trunking, look for features like call quality monitoring and an attendant console that can manage calls just like an operator.
In addition to offering a platform with excellent features, look for other ways to differentiate yourself. Promote your exceptional customer service, stellar response time, or your incredible speeds. Whatever you decide to make your unique value proposition (UVP), you need to incorporate it into your business mission statement and make sure to let your customers know exactly what you have to offer and why they should choose you over the competition.
➤ Related Content: How MSPs Can Differentiate Themselves from Big Brands
Bundle With Other Services You Offer
If you currently offer other managed services, consider how VoIP can be bundled in with them. Whether you offer managed IT services, CRM software, or other business products, this service can be essential to helping some small businesses with disparate workforces get off the ground. By offering VoIP with your services, you can help them decrease the number of vendors they work with and ensure that they get what they need. Being their one-stop shop for a variety of programs will help them be profitable on their own.
➤ Related Content: How MSPs Can Differentiate Themselves from Big Brands
If you're looking for a new revenue stream and are considering a VoIP white labeling service, RingLogix is the first VOIP platform built with MSPs in mind.
RingLogix White Label VoIP
The VoIP & UC Platform That Helps You GROW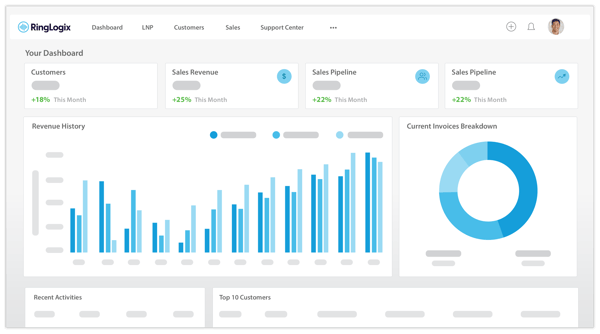 Replace swivel chair operations and managing loosely integrated systems with a single solution built from the ground up for MSPs. Offer your customers a branded and powerful cloud PBX service that's easy to setup and manage, with built-in billing and support tools that put you in control. Our system gives you all the tools your customers need:
Web meetings
Team chat
Business SMS
Web phone
Mobile app
Integrations
➤ Request A Demo Of Our White Label VoIP Platform
Don't settle for 15%-20% sales commissions. Grow your business faster with the white label platform that allows you to achieve margins up to 70% - allowing you more control of your business.
---
About us: RingLogix offers a white label VoIP platform - RingOS - that enables Partners to sell, provision, invoice, and support their own branded VoIP and UC services. We make becoming a VoIP provider easy with a managed VoIP switch, instant order activations, hassle-free number porting, multiple services, and a flexible billing system.